Our Graduates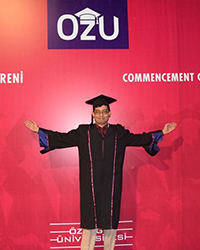 Waqas Hussain
Electrical and Electronics Engineering M.Sc., Class of '15 Pakistan
Being the first graduate student from Pakistan here in Özyegin University made me proud. I never thought about coming to Turkey for graduate studies. I always used to make plans for going to US, Canada or Scandinavian countries. But destiny brings me here and now I am very much happy with my decision. I chose OzU because it is one of the premier research universities in Turkey. After completing my MS studies I am planning to start PhD studies here in OzU. I really like living in Istanbul and I am deeply in love with Turkish Cuisine.
Justice-Gerald Azunna Obilor
Class of '15 Nigeria
It has been four great and memorable years with Ozyegin University. Ozyegin University has been a second family to me and a solid backbone during my academic sojourn. While at Ozyegin I was given the spring board I needed to pursue a second degree in a reputable university and also developed some other innate professional skills I never knew I had, thanks to the trust the International office relayed on me to market the University.
I treasure every relationship I have built along the way with everyone and will no doubt miss my fellow student colleagues, my erudite Professors, the resilient staff members, the countless social events, parties and off course the beautiful city of Istanbul.
Thank you Ozyegin University.
Yulia Ponomareva
Class of '15 Russia
I had a good time being an international student at Ozyegin University. I learnt a great deal of Turkish culture, I made many friends from all over the world, I enjoyed friendly atmosphere, and incredible on-campus facilities. Thank to my amazing professors, I gain a lot of professional knowledge and developed strong hospitality skills. Certainly, I am a bit sad to be graduated this summer and to terminate my student life at Ozu. On the other hand, I am very excited to make my university proud of me by my successful achievements on the professional field.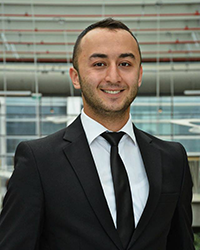 Abdulvakhkhobi Muminjoniyon
Banking and Finance graduate, Class of '15 Tajikistan
The education and experience that Ozyegin University provides is what I was looking for. I chose OzU for this. Every professor is alumni of the top universities of the world. Most of all, the education is in English and the university is made diverse because of its international students. The spirit of Entrepreneurship is seen in each of the students. By studying at OzU I gained a knowledge that I'll be using in my future career and a life-time connections with my friends.
Najib Alajati
Class of '15 Syria
Four years of my life I spent at OZU, It has been extraordinary and memorable days full of unforgettable memories with great friends who are considered as a second family to me. It is the time to thank my instructors for their encouragement, guidance and support at all stages of my education, Their willingness to motivate us contributed tremendously to our studies and projects. Deepest gratitude is also to the members of the international office who helped us as much as they can. Furthermore, I would like to thank the administration of Özyegin University for providing us with various resources and comfortable atmosphere to success.
I will miss everything related to OZU, I'll never forgot these days, I'll never forget Istanbul.
Seyed Fakhreddin Nabavi
Electrical and Electronics Engineering M.Sc., Class of '15 Iran
I joined Özyegin University, one of the most prominent science and engineering universities in Turkey, in Sep 2013 as a M.Sc. student. During my study I found a chance to work on several innovative and original research projects leading by recognized and expert faculty members. Furthermore, OZU gave another golden opportunity to be a teaching assistant parallel my research which is crucial for future career. I believe that I carry enough background, enthusiasm, and target from Özyegin University to continue my education through PhD studies. Therefore, I will pursue my PhD degree in Memorial University, Canada.
Orkhan Gambarlı
Economics Undergraduate, Class of '15 Azerbaijan
I was born in Baku, and I graduated from high school there. I changed two universities before I found myself in the Economics department of OzU. Since the beginning, I realized the advantages of being an OzU student. This was evident from high-class bilateral exchange agreements as well as the internship opportunities abroad. OzU taught to pick a dollar from the ground before someone else would do it. Hence, I took an advantage OzU presented, and spent one year at the University of Minnesota. I did not limit myself to academic opportunities at OzU, and thus applied for two internships abroad through the professional development office. Eventually, I received internship in a bank in Switzerland and in a private equity firm in Hong Kong. Upon return to Istanbul from Hong Kong I immediately started my application to the University of Oxford and I received full support from the faculty. In a very short time I received an invitation for an interview. It was hardest part as the interview was very technical. Several days after the interview I received an offer.
There are many ways one can define the word "success", whereas for me it represents the intersection of three sets. In my personal case, the three sets were the brilliant professors, exchange and internship opportunities at OzU, and my personal hard work. The intersection of sets generated result, M.Sc. in Financial Economics at the University of Oxford